For the September Bookclub, we read; Spilled Milk. A story based on the real-life experiences of surviving child abuse, offered challenges for theme food. Especially so as not to also minimize the theme and subject matter.
After some thought, I latched onto a moment in the story where she gets to go shopping and while initially offered a chance at a new doll, she instead opts for a journal. A place to put her feelings and thoughts inside while keeping the outside what others expected of her.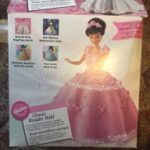 I decided to attempt a retro "Princess Cake", with a marshmallow fondant, as the dress base for the "pretty outside" covering what the story ultimately illustrates is the more complex and rich inner core. In this case, a cherry–almond nut cake. Ok now shopping for this, I did notice that my bags looked like I had 10-year-old girls at home… but I digress
The recipe I used was an adapted version but you can see a similar one here in the New England Today Blog from Yankee Magazine the only change I made was using almonds and I tend to like dark cherries, so I used the canned version instead of the super sweet maraschino ones they recommend.
As a backup, because every Princess needs a "plan B" I also made a Hot Milk Cake which was from my Mom's Cookbook, as I had never made this recipe before I wasn't sure of how it would taste initially. But after some sneaking and testing of the bottom – I found I liked the flavor as well, and while my initial concern was it was underdone – in the end – it had a good texture and could have come out a bit earlier. Since it was already made, it got gussied up this morning to take to our pals "10 year anniversary of meeting" brunch. It also being Castro Street Fair – I figured some pink sugar glitter over a simple milk & sugar glaze with lemon zest would do the job.
In the advent that she didn't come out, I also knocked out one of my favorite adapted recipes from Martha Stewart for a quick Cheddar Bread. Today's version had two other kinds of diced cheese and was laced with ground pepper, garlic powder, and herbs to give it a nice savory taste with brunch. topped with some honey-herbed butter – we were packed and ready to walk down to the Castro!
SaveSave
SaveSave
SaveSave
SaveSave
SaveSave
SaveSave