Super easy supper or dinner when you don't want to fry up the eggs.
No fry, "fried egg pizza"; Crust Optional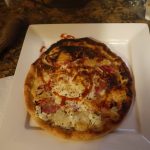 A surprisingly easy way to make eggs, especially for those of us who have poor ventilation in the kitchen, but still want that effect of fried eggs. the addtional of a pizza crust, also means no extra toast.
2-3 Eggs (Depends on your preference.)
1/4-1/2 cup Chopped vegetables and meats (This is the perfect dish for leftovers)
1/4-1/2 cup Chopped cheeses (Use what ever you have)
2-3 tsp Grated Parmesan cheese
Spray cooking spray (I use either olive oil or regular style)
Salt & Pepper to taste
Chopped Fresh Herbs (Optional or if on hand)
1/2 tsp Dried or fresh parsley or cilantro
Preheat the oven to 425 degrees. If you have a pizza stone, use it and put it in the oven now to heat

Using a small oven proof skillet (remember the handle will be in the overn so have mitts ready or a silecone handle)

Spray the skillet bottom and sides, liberally with cooking spray (I tend to use the olive oil version, but any will do)

Crack two to three eggs into the cold, sprayed skillet

Gently top with sliced ham, vegetables, cubes of cheese, dried herbs etc. But try to leave the tops of the yolks free.

Sprinkle with grated Parmesan cheese all over, including the yolks.

Add salt & pepper to taste

Move the setting on the oven to broil, high setting.

Place the skillet on center of the top rack. Cook for 6 to 10 minutes depending on how you like your eggs. At about five (5) minutes, remove the pan and gently tap the side of it against your palm to loosen the eggs from the bottom of the pan.

When the eggs are done and the Parmesan cheese is browned, remove from the oven, slide onto a warm plate.

Top with Saracha or Tabasco sauce, any fresh herbs and you're good to go
How to make the version with a crust;
Use a pre-baked, small personal size pizza (fresh dough or premade corn meal ones, even bobali's) place on a pizza stone (or on foil right on the rack) in a preheated oven at 425 for 10 min.

Remove the pizza stone and crust from the oven. Top with a thin layer of flavored cream cheese spread (I use the cream cheese and chive spread).

Turn on the broiler sitting on the oven to high

Now it plays out the same as above; add assorted sliced/chopped meats vegetables and addtional cheese. Crack an egg or two in the center of the crust (they will shift a bit). Sprinkle with Parmesan cheese. Add salt and pepper to taste.

Return "pizza" to the oven, on the top rack for 6 – 8 min (or the eggs are to your taste)

When the eggs are done and the Parmesan cheese lightly browned remove from the oven, slide onto the plate.

Top with Saracha or Tabasco sauce, any fresh herbs and you're good to go
SaveSave
SaveSave
SaveSave