Fall has hit me strong this year.
It's been a pretty busy few weeks so I haven't been able to keep up with posting. This week will be a brief recap of highlights as we round the corner into the middle of October. 
As September hit
We tried to get ourselves motivated to do a few of the local street fairs – but we ended up missing the Folsom Sreet Fair but did head out on that Friday before or some fun at the Prime dance.
But continue to manage to get a few urban hikes in and as a treat, we included an unplanned meal at Dottie's True Blue Cafe at its newest location, one afternoon and managed to get seats with any wait! (note- Saturday afternoon around 1:30 – no line). We definitely enjoyed all the food from the grilled cornbread, sweet roll and crumb cake to the different eggs dishes. Even the coffee is good. This is not some flash in the pan cafe – they have held court in San Francisco as a local and tourist favorite for years. Word on up Dottie's – the pastries as well as the entrees are large and go fast. If you do get in a line, let the folks know at the counter what pastry you want so they can set one aside as once they sell out – it's out for the day. 
We did manage to check out some other local street fairs in September, including the Inner Sunset Street Fair which netted use some new food finds to try by local vendors including a new jam and a spicy garlic sesame spread.
Another fun find was these dolls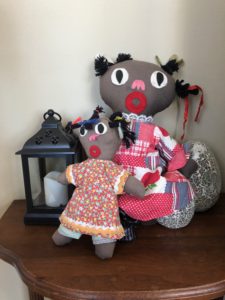 A pal of mine collects this genre of art representing the African in American arts and when I travel and find some interesting finds for him I call him up. This set of stuffed dolls match in style two smaller ones I got at an estate sale some months earlier. For now, they sit in the living room, although a few folks have referenced the movie Annabel saying the dolls seem to follow them.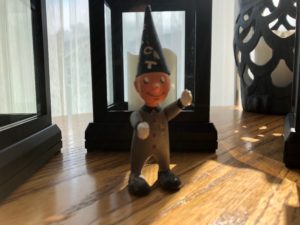 I also continue to go through boxes from our move that never was opened as well as boxes sent back from CT. This little guy was an odd character that I remember seeing while growing up. My dad used to have him in different places so now he watches over us.
Bookclub, Sales & Food
Knocked out a bunch of new dishes this month including a baked ham with pan stewed apples,  For book club in October – I went with a new recipe for Scalloped Potatoes meet Potato Gratin.  I liked this modified version for its cheesy taste and less liquid than in regular scalloped version. 
Paul and I also managed to score big at the Timbuktu outlet sale with a few new bags. One we had been looking at online we got for less than 25% of the original price.! After the sale, we stopped by a corner Mexican place called San Jalesco we hadn't tried before but had been around forever. We liked the food so much, we ended up back there a few weeks later to try it for dinner. Well worth the money and the folks working were a lot of fun.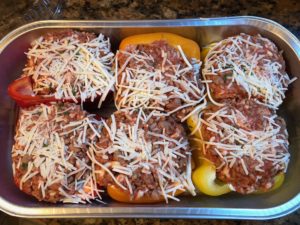 I also found a new fun find at Costco. I rarely have purchased the prepared food at Costco, except for the roast chickens. But the stuffed peppers with ground meat and rice looked great and are a reasonable price. So I figured I would take a risk. My suggestion – do it. They are good, easy to heat up (just add some water to the bottom of the pan first) and are pretty well flavored so no need to "almost homemade" it.  Except maybe some more cheese on it, they require no work.
Had some fun with improvising a recipe for Monkey Bread. Which to be truthful, is really just an excuse to east chocolate, sugar, and cinnamon. But it works! Let's face it – most foods that are this good – aren't going to ever photograph that way.. so simply imagine how good it tastes. 🙂
Paul really likes Oatmeal and chocolate chip cookies – but they don't really connect with me – so I decided to whip up a bar (pan) version. This adaption has all the same ingredients with the addition of chopped nuts. Making them thick, chewy and crispy – while rich, they tasted great. Perfect for a office party as they can be cut small but pack a punch of flavors. 
Palm Springs
We tool a quick trip to PS for a long weekend and managed to grab some perfect weather. Since it was last minute – we didn't make many plans with anyone, but did grab dinner at Grand Central which recently opened ( and yes – go!) and got a peek at Arlan's newest Daddy's Barbershop.
Now, did you know – that in Palm Springs – they actually have a station on TV for dogs? Serious. DOGTV is a real thing an pretty much is hours of outdoor nature seems with natural sounds. 
More to come this week including our "On The Train to Reno" weekend
To be continued…