I tried this for Pauls office picnic and have done it several times since with both a vegan version and a regular one.
Several versions exist online but I found them too plain for me – so I adapted it some with adding the blueberries and more citrus.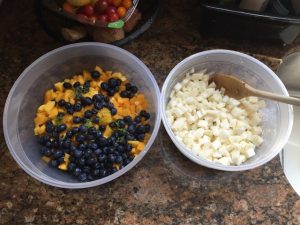 The big part of this is not to add herbs like basil unless you want it to become more of a "salsa".
Ingredients
3 tablespoons sugar (for vegan use Agave Nectar)
Grated lime zest plus 3 tablespoons juice (2 limes)
1/4 teaspoon red pepper flakes ( too taste – I usually add more as the Jicama can take it)
Pinch salt
12 ounces jicama  – diced
2 mangos chopped
2 oranges and the zest of both of them
1 lemon
fresh mint leaves
a pint of blueberries
1 tablespoon of honey (or early season maple syrup)(optional)
Prepare the Jicama

Peel the jícama, and cut into 1/4″ dice (should yield 1-1/2 cups).
In small saucepan, add the sugar, 1/2 the lime zest and juice, 1/2 the orange zest, 1/4 teaspoon red pepper flakes, a pinch salt. (note adding some fresh ginger root also has a nice flavor)
Put over medium burner and cook for 3 minutes until the sugar dissolves; stirring constantly.
Remove pan from burner, stir in jícama to coat, and allow the syrup to cool for 20 minutes.

Rest of the fruit

Meanwhile, peel the mangos, removing pit, and cut into 1/2″ dice (should yield about 4 cups).
Add to a large serving bowl.
Peel your oranges and cut away the pith. Slice into 1/2″ thick rounds and then into 1/2″ dice.
Add to bowl with diced mango.
Add the rest of the lime and orange zest, honey and toss.

After the syrup has cooled for 20 minutes, pour over fruit in serving bowl and toss until well combined.
Cover and refrigerate for 15 minutes prior to serving.

I think this is better after it has sit for a few hours or overnight.
Add the chopped mint before serving.
You can add more lemon if you need it brighter. the amounts are really a tarting place – depending on if you buy your mango already cut up, how sweet it is, and how large your jicama is – you can play it by taste. This feeds a lot – figure 5 -8 people, so is great for a picnic or potluck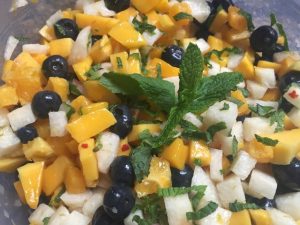 Other versions include:
Mango, Orange, and Jícama Salad
https://www.americastestkitchen.com/recipes/7783-mango-orange-and-jicama-salad